List of Jewish chess players
Jewish players and game theoreticians have long been involved in the game of chess and have significantly contributed to the development of chess, which has been described as the "Jewish National game". Of the first 13 undisputed world champions, over 50% were Jewish, including the first two. The Modern school of chess espoused by Wilhelm Steinitz and Siegbert Tarrasch; the Hypermodernism influenced by Aron Nimzowitsch and Richard Réti; and the Soviet Chess School promoted by Mikhail Botvinnik were all strongly influenced by Jewish players. Other influential Jewish chess theoreticians, writers and players include Zukertort, Tartakower, Lasker, Rubinstein, Breyer, Spielmann, Reshevsky, Fine, Bronstein, Najdorf, Tal, Fischer, and Polgár. Professor Arpad Elo, the inventor of the scientific rating system employed by the FIDE analysed some 476 major tournament players from the nineteenth century onward and of the fifty-one highest ranked players, approximately one-half were Jewish. One of the strongest ever players was the half Jewish Garry Kasparov, who was world No. 1 from 1985 until his retirement in 2005, however Kasparov has described himself as a "self-appointed Christian" preferring to follow his mother's faith. The strongest female chess player in history by far is the Jewish Judit Polgár. There is currently a strong Jewish presence among the world's best players. Currently, the world number two, Levon Aronian from Armenia, is half-Jewish. Beersheba in Israel is the city with the most chess grandmasters per capita in the world. Israel has also won one silver and one bronze medal at Chess Olympiads.
The topic of Jewish participation in chess is discussed extensively in academic and popular literature. One such book devoted to the topic is The Great Jewish Chess Champions by Harold U. Ribalow and Meir Z. Ribalow, Hippocrene Books, 1987, ISBN 0-87052-305-8. Others include Chess, Jews, and history, by Victor Keats, 1994, Oxford Academia Publishers, ISBN 1-899237-00-3, Chess Among the Jews: A Translation and Explanation of the Work of Moritz Steinschneider, by Victor Keats, 1995, ISBN 1-899237-02-X, Chess in Jewish history and Hebrew literature, by Victor Keats, 1995, Magnes Press, ISBN 965-223-915-1, and Can I Play Chess on Shabbas, by Joe Bobker, 2008, ISBN 965-229-422-5. See also Jewish chess masters on stamps, by Felix Berkovich and N. J. Divinsky, McFarland, 2000, ISBN 0-7864-0683-6. H.G. Wells, himself a chessplayer, discusses the eminence of the Jewish race in chess, in his History of the World. The Museum of Jewish Heritage is developing a special gallery relating to Jews in sports and chess, which will recognize "major Jewish chess players such as Garry Kasparov, Mikhail Tal, and Judith Polgar".
List
The list refers to chess players who are Jews and have attained outstanding achievements in chess. Bold face denotes current competitor.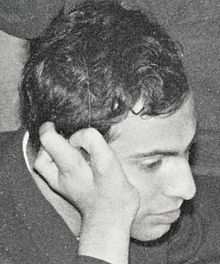 Mikhail Tal
1961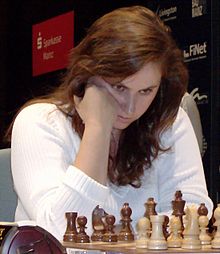 Judit Polgar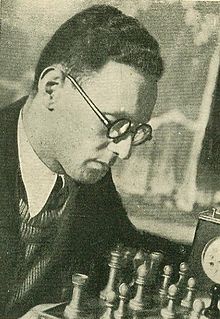 Mikhail Botvinnik
Emanuel Lasker
Wilhelm Steinitz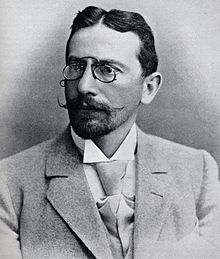 Siegbert Tarrasch
Aron Nimzowitsch
Akiba Rubinstein
Viktor Korchnoi
Aaron (Albert) Alexandre, German-born French-English
Simon Alapin, Lithuanian
Arnold Aurbach, Polish-born French
Yuri Averbakh, Russian grandmaster, 2445
Ossip Bernstein, Ukrainian-born French grandmaster
Arthur Bisguier, US grandmaster, 2455
Isaac Boleslavsky, Ukrainian-born Soviet grandmaster
Mikhail Botvinnik, Russian/Soviet grandmaster & World champion
David Bronstein, Ukrainian-born Soviet grandmaster, 2590
Oscar Chajes, Ukrainian/Polish/Austrian-born US
Vitaly Chekhover, Russian
Erich Cohn, German
Wilhelm Cohn, German
Moshe Czerniak, Polish-born Palestinian/Israeli
Arnold Denker, US grandmaster, 2293
Daniil Dubov, Russian grandmaster
Arthur Dunkelblum, Polish-born Belgian
Roman Dzindzichashvili, Georgian-born Israeli American grandmaster, 2550
Berthold Englisch, Austrian
Larry Evans, US grandmaster, 2530
Reuben Fine, US grandmaster
Bobby Fischer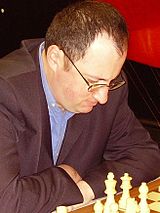 Boris Gelfand
Garry Kasparov
Ilya Gurevich, Russian-born US grandmaster & junior World champion, 2575
Mikhail Gurevich, Ukrainian-born Russian Turkish grandmaster, 2694
Lev Gutman, Latvian-born Israeli German grandmaster, 2547
Daniel Harrwitz, Prussian/Polish/German-born English French
Israel Horowitz, US
Bernhard Horwitz, German-born English
Dawid Janowski, Belarusian/Polish-born French grandmaster
Max Judd, US
Gregory Kaidanov, Ukrainian-born Russian US grandmaster, 2695
Julio Kaplan, Argentine-born Puerto Rican US grandmaster & World junior champion
Mona May Karff, Moldovan-born US woman master
Isaac Kashdan, US grandmaster
Garry Kasparov (born "Garry Weinstein"), The offspring of an Azeri-borne Jewish father & an ethnic Armenian mother ("née Gasparian"), Establishing himself as a highly successful Soviet/Russian grandmaster & World champion from a young age, Kasparov dominated the chess world until his retirement on March 10, 2005. He is often considered by chess aficionados, professional analysts as well as his fellow players & peers, to be the greatest chess player of all time.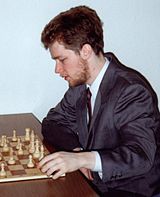 Alexander Khalifman
Alexander Khalifman, Russian grandmaster & World champion, 2702
Ignatz von Kolisch, Hungarian/Slovakian-born Austrian grandmaster
George Koltanowski, Belgian-born US grandmaster
Viktor Korchnoi, Russian-born Dutch Swiss grandmaster, 2695
Yair Kraidman, Israeli grandmaster, 2455
Abraham Kupchik, Belarusian/Polish-born US
Alla Kushnir, Russian Israeli woman grandmaster, 2430
Salo Landau, Polish-born Dutch, killed by the Nazis
Edward Lasker, Polish/German-born US
Emanuel Lasker, Prussian/German/Polish-born US grandmaster & World champion
Grigory Levenfish, Polish/Russian-born grandmaster
Irina Levitina, Russian-born US woman grandmaster
Vladimir Liberzon, Russian-born Israeli grandmaster
Andor Lilienthal, Russian-born Hungarian/Soviet grandmaster
Johann Löwenthal, Hungarian-born US English
Moishe Lowtzky, Ukrainian-born Polish, killed by Nazis
Gyula Makovetz, Hungarian
Jonathan Mestel, British grandmaster & World U-16 champion, 2540
Jacques Mieses, German-born English grandmaster
Miguel Najdorf, Polish-born Argentine grandmaster
Aron Nimzowitsch, Latvian-born Danish
Isaias Pleci, Argentine
Judit Polgár, Hungarian grandmaster, 2735
Susan Polgár, Hungarian-born US grandmaster & World champion, 2577
Zsófia Polgár, Hungarian-born Israeli international master, 2500
Lev Polugaevsky, Belarusian/Soviet grandmaster, 2640
Dawid Przepiórka, Polish, killed by Nazis
Vyacheslav Ragozin, Russian grandmaster
Teimour Radjabov, Azerbaijani grandmaster
Samuel Reshevsky, Polish-born US grandmaster
Richard Réti, Slovakian/Hungarian-born Czech
Maxim Rodshtein, Israeli U-16 World champion
Kenneth Rogoff, US grandmaster
Samuel Rosenthal, Polish-born French
Akiba Rubinstein, Polish grandmaster
Gersz Salwe, Polish grandmaster
Emanuel Schiffers, Russian
Vasily Smyslov, Soviet/Russian grandmaster & World champion, 2620
Gennady Sosonko, Russian-born Dutch grandmaster
Jon Speelman, English grandmaster
Rudolf Spielmann, Austrian-born Swedish
Leonid Stein, Ukrainian-born Russian grandmaster
Endre Steiner, Hungarian
Herman Steiner, Slovakian/Hungarian-born US
Lajos Steiner, Romanian/Hungarian-born Australian
Wilhelm Steinitz, Czech-born Austrian & US grandmaster & World champion
Emil Sutovsky, Israeli grandmaster, 2697
László Szabó, Hungarian grandmaster
Mark Taimanov, Soviet/Russian grandmaster
Mikhail Tal, Soviet/Latvian grandmaster & World champion, 2645
Siegbert Tarrasch, Polish/German grandmaster & Senior World champion
Savielly Tartakower, Russian-born Austrian/Polish/French grandmaster
Max Weiss, Slovakian/Hungarian-born Austrian
Simon Winawer, Polish
Leonid Yudasin, Russian-born Israeli grandmaster, 2692
Tatiana Zatulovskaya, Azeri-born Russian Israeli woman grandmaster
Johannes Zukertort, Polish-born German English
Read more:
List of Jewish American sportspeople
List of Jewish sportscasters and promoters
List of Jews in sports
Jewish Sports Review
International Jewish Sports Hall of Fame, Netanya, Israel
US National Jewish Sports Hall of Fame and Museum, Commack, New York
COMMENTS