Viktor Korchnoi
Korchnoi in 1993

Full name
Viktor Lvovich Korchnoi
Country
Soviet Union
Switzerland
Born
23 March 1931
Leningrad, Soviet Union
Title
Grandmaster 1956
Peak rating
2695 (January 1979)
Viktor Lvovich Korchnoi (Russian: Ви́ктор Льво́вич Корчно́й; ; born 23 March 1931) is a professional chess player, author and until recently the oldest active grandmaster on the tournament circuit. He is widely considered the strongest player to have never become World Chess Champion, with the main alternative choice for that distinction being Paul Keres.
Born in Leningrad, Soviet Union, Korchnoi defected to the Netherlands in 1976, and has been residing in Switzerland for many years. Korchnoi played three matches against Anatoly Karpov. In 1974, he lost the Candidates final to Karpov, who was declared world champion in 1975 when Bobby Fischer refused to defend his title. He then won two consecutive Candidates cycles to qualify for World Championship matches with Karpov in 1978 and 1981, losing both.
Korchnoi was a candidate for the World Championship on ten occasions (1962, 1968, 1971, 1974, 1977, 1980, 1983, 1985, 1988 and 1991). He was also a four-time USSR chess champion, a five-time member of Soviet teams that won the European championship, and a six-time member of Soviet teams that won the Chess Olympiad. In September 2006, he won the World Senior Chess Championship.
Early life and career
Korchnoi was born on 23 March 1931 in Leningrad, USSR, to a Jewish father and a Catholic mother. He graduated from Leningrad State University with a major in history.
He learned to play chess from his father at the age of five. In 1943, he joined the chess club of the Leningrad Pioneer Palace, and was trained by Abram Model, Andrei Batuyev, and Vladimir Zak. In 1947, he won the Junior Championship of the USSR, with 11½/15 at Leningrad, and shared the title in 1948 with 5/7 at Tallinn, Estonia. In 1951, he earned the Soviet Master title, following his second place in the 1950 Leningrad Championship, with 9/13.
Young master
One year later, Korchnoi qualified for the finals of the USSR Chess Championship for the first time. In the semifinal at Minsk, 1952, he scored 10½/17 for a shared 2nd-4th place, to advance. In the 20th Soviet final, held at Moscow, he scored 11/19 for sixth place, as Mikhail Botvinnik and Mark Taimanov came joint first. The next year, he again had to qualify from a semifinal, and succeeded in an event held at Vilnius 1953, with 9/14 for a shared 3rd-4th place. Korchnoi improved on the previous year's showing with his shared 2nd-3rd place in URS-ch21 at Kiev 1954, on 13/19, as Yuri Averbakh won. This high championship placing was rewarded with his first international opportunity, a participation in Bucharest 1954, where he finished in clear first place with 13/17. FIDE awarded him the title of International Master in 1954. He won the 1955 Leningrad Championship with a massive score of 17/19, and shared 1st-2nd places at Hastings 1955-56 on 7/9. He was awarded the Grandmaster title at the FIDE Congress in 1956.
International Soviet teams standout
Korchnoi earned his first international team selection for the Soviet student team in 1954, joined the full national team for the European Team Championship three years later, and would represent the USSR through 1974. He won 21 medals for the USSR. His complete Soviet international team play results follow:
Oslo 1954, Student Olympiad, board 1, 4½/7 (+3−1=3), team silver;
Uppsala 1956, Student Olympiad, board 1, 6/7 (+5−0=2), team gold;
Vienna 1957, European Team Championship, board 8, 5½/6 (+5−0=1), team gold, board gold;
Leipzig 1960 Olympiad, board 4, 10½/13 (+8−0=5), team gold; board bronze;
Oberhausen 1961, European Team Championship, board 6, 8½/9 (+8−0=1), team gold, board gold;
Hamburg 1965, European Team Championship, board 3, 5½/9 (+4−2=3), team gold, board gold;
Havana 1966 Olympiad, 1st reserve, 10½/13 (+9−1=3), team gold, board gold;
Lugano 1968 Olympiad, board 3, 11/13 (+9−0=4), team gold;
Kapfenberg 1970, European Team Championship, board 2, 4/6 (+2−0=4), team gold;
Siegen 1970 Olympiad, board 3, 11/15 (+8−1=6), team gold, board bronze;
Skopje 1972 Olympiad, board 2, 11/15 (+8−1=6), team gold, board gold;
Bath 1973, European Team Championship, board 3, 4/6 (+3−1=2), team gold;
Nice 1974 Olympiad, board 2, 11½/15 (+8−0=7), team gold, board bronze.
Strong Grandmaster
Korchnoi rose to prominence within the Soviet chess school system, where he competed against stars such as Mikhail Tal, Tigran Petrosian, and Boris Spassky, following in the path laid out by Mikhail Botvinnik.
Korchnoi's playing style initially was an aggressive counterattack. He excelled in difficult defensive positions. His results during the 1950s were often inconsistent. One particularly bad result was his 19th place (only one from bottom) at the URSch-22, Moscow 1955, with 6/19. During the 1960s he became more versatile. He won at Kraków 1959 with 8½/11, shared 1st-2nd places with Samuel Reshevsky at Buenos Aires 1960 with 13/19, won at Córdoba, Argentina 1960 with 6/7. After his victory at Budapest 1961 (Géza Maróczy Memorial) with 11½/15 ahead of Bronstein and Miroslav Filip each with 9½, Korchnoi was recognized as one of the world's best players.
Korchnoi won the USSR Chess Championship four times during his career. At Leningrad 1960 for URS-ch27, he scored 14/19. He won at Yerevan 1962, URS-ch30, with 13/19. He won at Kiev 1964-65 with 15/19. His final title was at Riga 1970, for URS-ch38, with 16/21.
He never succeeded in becoming World Champion, but many people consider him the strongest player never to have done so, a distinction also often attributed to Paul Keres. When Spassky beat Petrosian to claim the World Title in 1969, the Soviet Chess Federation started pursuing a youth policy that largely classed Korchnoi and Vasily Smyslov as the old vanguard; as a consequence, they were sometimes overlooked when it came to distribution of opportunities to play in international chess tournaments.
World Champion title candidate
He first qualified as a candidate from the 1962 Stockholm Interzonal, scoring 14/22 for a shared 4-5th place finish, as Fischer won. The 1962 Candidates tournament, the last held in a round-robin format for some years, was held at Curaçao a few months later, and Korchnoi placed fifth out of eight with an even score, 13½/27, while Tigran Petrosian earned the right to challenge Botvinnik.
Korchnoi won at Havana 1963 with 16½/21, but fared less well in the next Soviet Championship, URS-ch31 at Leningrad, with just 10/19 for 10th place. He missed qualifying for the next world championship cycle, 1964-66, because of a relatively poor showing at the 1964 Zonal tournament in Moscow, where he made 5½/12 for a shared 5-6th place, so did not advance to the Interzonal. Korchnoi regained his form with an overwhelming triumph at Gyula, Hungary, in 1965 with 14½/15. He won at Bucharest 1966 with 12½/14, and at the Chigorin Memorial in Sochi 1966 with 11½/15.
He tied for 3rd-5th places at the URS-ch34, held in Tbilisi in 1966-67, with 12/20, and emerged from a three-way playoff, along with Aivars Gipslis, at Tallinn, 1967 to the Interzonal, staged at Sousse, Tunisia, later that year. A strong performance at the interzonal, with 14/22, for a shared 2nd-4th place, took him through to the Candidates' matches. In his first match, he defeated American Samuel Reshevsky at Amsterdam in 1968 by (+3=5). His next opponent was Tal, against whom Korchnoi had had a large plus score in previous meetings. The match, held in Moscow 1968, was close, but Korchnoi won by (+2−1=7), and moved on to face Boris Spassky in the Candidates final. Spassky prevailed at Kiev 1968, winning (+4−1=5).
Korchnoi, as the losing finalist, was exempt from qualifying for the next cycle (1970-72), and was seeded directly to the following Candidates' event. To prepare, he first played a secret training match with his friend David Bronstein in Leningrad 1970, losing 3½-2½. The games from this match were kept secret until 2007, when they were eventually published in Bronstein's last book, Secret Notes. Then, he played a training match against Anatoly Karpov, with whom he was close at the time, at Leningrad 1971; this wound up drawn in six games. Korchnoi won his first round 1971 match against Efim Geller at Moscow by (+4−1=3), after which he went down to defeat in the semifinal versus Tigran Petrosian by (−1=9), also at Moscow, with the ninth game the only decisive result. Karpov, in his book Karpov on Karpov (Atheneum 1993), writes that, because of Fischer's overwhelming form at that time, Korchnoi and Petrosian were asked by Soviet chess authorities to choose between themselves, before the match, who they thought would have the better chance of stopping Fischer in the finals. Petrosian apparently believed strongly in himself, and so Korchnoi was asked to throw the match, receiving as compensation invitations to the three most prestigious tournaments in western Europe. Petrosian, however, lost to Fischer by the score of (+1−5=3) late in 1971.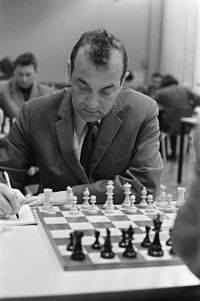 Korchnoi (Amsterdam, 1972)
In 1972, Korchnoi appeared in the chess-themed Soviet film Grossmeister along with several other grandmasters; he played the role of the lead actor's trainer.
Korchnoi was comfortable playing with or without the initiative. He could attack, counterattack, play positionally, and was a master of the endgame. He became known as the master of counterattack, and he was Mikhail Tal's (an out-and-out attacker) most difficult opponent. He had a large lifetime plus score against Tal (+13−4=27), and also has plus scores against world champions Petrosian and Spassky. He had equal records against Botvinnik (+1−1=2) and Fischer (+2−2=4). He has defeated nine undisputed world champions from Botvinnik through to Garry Kasparov, and Magnus Carlsen.
Korchnoi and Karpov, the newest star of Soviet chess, tied for first in the 1973 Leningrad Interzonal. In the 1974 Candidates' matches, Korchnoi first defeated the young Brazilian star Henrique Costa Mecking, (who had won the other Interzonal, in Petrópolis) by (+3−1=9) at Augusta, Georgia - in what he later described as a tough match in his autobiography. Korchnoi next played Petrosian at Odessa. The two were not on friendly terms, and it was even rumored that the two resorted to kicking each other under the table during this match; however, Korchnoi denies this. According to him, Petrosian just kicked his legs nervously and shook the table. Although the match was supposed to go to the first player to win four games, Petrosian resigned the match after just five games, with Korchnoi enjoying a lead of 3-1, with one draw.
With his victory over Petrosian, Korchnoi advanced to face Karpov in the Candidates' Final, the match to determine who would challenge reigning World Champion Bobby Fischer in 1975. In the run-up to the match, Korchnoi was constantly subjected to threats and harassment, and was virtually unable to find any Grandmasters to assist him. Bronstein apparently assisted Korchnoi, for which he was punished. Bronstein, in his last book, Secret Notes, published in 2007, wrote that he advised Korchnoi before the match began, but then had to leave to play an event himself; when he returned, Korchnoi was down by three games. Bronstein then assisted Korchnoi for the final stages. Korchnoi also received some assistance later in the match from two British masters, Raymond Keene and William Hartston. Korchnoi trailed 3-0 late in the match, but won games 19 and 21 to make it very close right to the end. Karpov eventually won this battle, played in late 1974 in Moscow, by a 12½-11½ score. By default, Karpov became the twelfth world champion in April 1975, when Fischer refused to defend his title because of disputed match conditions.
Defection
In the lead-up to the Candidates' Final in 1974, as part of a campaign to promote Karpov over Korchnoi, Tigran Petrosian made a public statement in the press against Korchnoi. At the closing ceremony of the Candidates' Final, Korchnoi had made his mind up that he had to leave the Soviet Union. The central authorities prevented Korchnoi from playing any international tournaments, and even when invited by Paul Keres and Iivo Nei to participate in an International Tournament in Estonian SSR, Korchnoi was not allowed to play, and both Keres and Nei were reprimanded.
Korchnoi, in a 2006 lecture in London, mentioned that the breakthrough that allowed him to resume international appearances came when Anatoly Karpov inherited the World Championship title (resigned by Bobby Fischer). Questions arose about how Karpov qualified to be a World Champion, when he had never played Fischer. Since Korchnoi was not publicly visible, it was largely believed that he (and Karpov) could not be very strong. Korchnoi was then allowed to play the 1976 Amsterdam tournament, as a means to prove Karpov was a worthy World Champion.
Korchnoi was joint winner of the tournament along with Tony Miles. At the end of the tournament, Korchnoi asked Miles to spell "political asylum" for him. As a result, after the chess tournament in Amsterdam, Korchnoi was the first strong Soviet grandmaster to defect from the Soviet Union. He had to leave his wife and son behind. The defection resulted in a turbulent period of excellent tournament results, losses in the two matches for the World Title - all overshadowed by the oppressive political climate of the Cold War.
Korchnoi resided in the Netherlands for some time, giving simultaneous exhibitions. He played a short match against Jan Timman - the strongest active non-Soviet player at that time - and comprehensively defeated him. He moved to West Germany and then eventually settled in Switzerland by 1978.
First World Championship match against Karpov
Read main article: World Chess Championship 1978
In the next world championship cycle (1976-78), Korchnoi opened by again vanquishing Petrosian, by (+2−1=9) in the quarter-final round, taking a draw in a clearly favourable position in the final game. In the semifinal, held at Evian, Korchnoi won against Lev Polugaevsky, with a score of (+5−1=7). The final, in which he faced Spassky, began with five wins and five draws for Korchnoi, after which he lost four consecutive games, though he steeled himself and finally secured victory in the match by (+7−4=7) to emerge as the challenger to Karpov.
The World Championship match of 1978 was held in Baguio, Philippines. There was controversy off the board, ranging from X-raying of chairs, protests about the flags used on the board, hypnotism complaints and the mirror glasses used by Korchnoi. When Karpov's team sent him a bilberry yogurt during a game without any request for one by Karpov, the Korchnoi team protested, claiming it could be some kind of code (such as whether Korchnoi was dead equal or slightly advantageous). They later said this was intended as a parody of earlier protests, but it was taken seriously at the time.
In quality of play, the match itself never measured up to the press headlines that it generated, although as a sporting contest it had its share of excitement. The match would go to the first player to win six games, draws not counting. After 17 games, Karpov had an imposing 4-1 lead. Korchnoi won game 21, but Karpov won game 27, putting him on the brink of victory with a 5-2 lead. Korchnoi bravely fought back, scoring three wins and one draw in the next four games, to equalise the match at 5-5 after 31 games. However, Karpov won the very next game, and the match, by 6-5 with 21 draws.
Second World Championship match against Karpov
Read main article: World Chess Championship 1981
Korchnoi won the next Candidates' cycle to again earn the right to challenge Karpov in 1981. The match was held in Meran, Italy. The headline of the tournament again largely centered on the political issues. Korchnoi's wife and son were still in the Soviet Union. His son had been promised to be released to join his father in exile if he gave up his passport. When he did so, he was promptly drafted into the Soviet army. In spite of protests, Korchnoi's son was arrested for evading army service, sentenced to two and a half years in labour camp, and served the full sentence. After the release, he was again refused permission to leave the USSR. (In 1982, six years after Korchnoi's defection, his son finally succeeded in leaving the country. His wife also left the USSR, and the two divorced.)
Korchnoi took the opportunity of the match to publicize the situation of his wife and son, drafting an open letter to the Soviet government to release them both.
In what was dubbed the "Massacre in Merano", Karpov defeated Korchnoi by six wins to two, with ten draws.
Later career
Korchnoi in 2009
Korchnoi, however, still had a vital part to play in the next (1984) Candidates' cycle, although he never reached the highest pinnacle again. He was matched to play the young Soviet Garry Kasparov who at the time was battling against a Soviet Chess Federation that was clearly in favour of Anatoly Karpov. Korchnoi seemed to have great fondness for Garry Kasparov - possibly because he recognized the situation Kasparov was in - a prominent talent blocked by the Soviet bureaucracy.
The match was to be held in Pasadena, California, but the Soviet Chess Federation protested (possibly because Korchnoi was a defector and the match was in the cold-war enemy's back yard, and because of the soon-to-be-announced Soviet decision to boycott the 1984 Olympic Games in Los Angeles), and Kasparov was not allowed to fly there to play the match. This defaulted the match to Korchnoi.
However, after a remarkable series of events, Korchnoi agreed to play the match in London. This was a gracious gesture by Korchnoi, since technically he had already won by default. After a good start, Korchnoi was blown away by Kasparov's attacking play and remarkable maturity.
After the 1983 Kasparov match, Korchnoi continued playing at a top level but without seriously threatening the world championship again. In the 1985-87 World Championship cycle he finished equal thirteenth out of 16 in the Candidates' Tournament. In the 1988-90 cycle he made the final 16 again, but was eliminated in the first round of Candidates' matches. In the 1991-93 cycle he reached the final 8 of the Candidates' before being eliminated.
He continued to play in Europe to a high age, living in his adopted country of Switzerland and frequently representing their Olympiad team on top board, even though his Elo rating was considerably below that of compatriot Vadim Milov who appears not to make himself available for selection. Korchnoi first played for Switzerland at the 1978 Olympiad, held in Buenos Aires, where he took the individual gold medal for best performance on board one.
Korchnoi is noted for his unusual longevity at the chessboard. He has been at or near the top of the game for nearly half a century. He continued to play many tournaments every year, playing more than 15 tournaments in 2006. He won the 2005 Quebec Open in Montreal. In August 2006 at age 75 he won the Banyoles Open in Spain ahead of Sergei Tiviakov.
On the January 2007 FIDE rating list Korchnoi was ranked number 85 in the world at age 75, by far the oldest player ever to be ranked in the FIDE top 100. The second-oldest player on the January 2007 list was Alexander Beliavsky, age 53, who is 22 years younger than Korchnoi. As of 2011, Korchnoi was still active in the chess world with a notable win (in Gibraltar) with black against the 18-year-old Fabiano Caruana, who was rated above 2700 and 61 years Korchnoi's junior.
In late December 2012, it was reported that Korchnoi was recovering from a stroke and was unlikely to play competitive chess again. He was scheduled to play in the 37th Zurich Christmas Open tournament in December 2013, but withdrew due to health reasons.
In the December 2014 FIDE rating list, Korchnoi was treated as inactive, indicating his retirement.
World Senior Chess Champion
In September 2006 Korchnoi won the 16th World Senior Chess Championship, held in Arvier (Valle d'Aosta, Italy), with a 9-2 score. Korchnoi scored 7½-½ in his first eight games, then drew his last three games. This is the first world title Korchnoi has won (and his only participation in a World Senior Chess Championship).
Swiss National Champion
Korchnoi became possibly the oldest player ever to win a national championship, when he won the 2009 Swiss championship at age 78. This was followed by securing the title of the top-scoring Swiss player at the Swiss Championship in 2011.
Books
In popular culture
Korchnoi's 1976 defection is thought to have inspired in part the plot of the 1986 musical Chess.
In "Dangerous Moves", a film from 1984, the "match and the characters are reminiscent of the real-life 1981 match between Viktor Korchnoi and Anatoly Karpov".
Read more:
List of Eastern Bloc defectors
COMMENTS