17th Chess Olympiad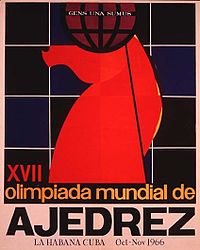 The official poster for the Olympiad.
The 17th Chess Olympiad, organized by FIDE and comprising an open team tournament, as well as several other events designed to promote the game of chess, took place between October 23 and November 20, 1966, in Havana, Cuba.
The Soviet team with 6 GMs, led by world champion Petrosian, lived up to expectations and won their eighth consecutive gold medals, with the United States and Hungary taking the silver and bronze, respectively.
Ex-champion Tal was beaten up in a bar shortly before the Olympiad and missed the first five rounds due to his injuries.
When Hungary and Yugoslavia tied on both game and match points, and they had drawn 2-2 with each other, the rules dictated that the final ranking would be decided by using the Neustadtl score - but not which version of it. A socalled unweighted score was used, which placed Hungary ahead of Yugoslavia, giving them the bronze medals. Had the weighted variant been used instead, the result would have been the other way around.
Results
Preliminaries
A total of 52 teams entered the competition and were divided into seven preliminary groups of seven or eight teams each. The top two from each group advanced to Final A, the teams placed 3rd-4th to Final B, no. 5-6 to Final C, and the rest to Final D. All preliminary groups and finals were played as round-robin tournaments. The preliminary results were as follows:
Group 1: 1. Soviet Union, 2. Spain, 3. Switzerland, 4. Sweden, 5. Philippines, 6. Uruguay, 7. Monaco, 8. Hong Kong.
Group 2: 1. Yugoslavia, 2. Iceland, 3. Indonesia, 4. Austria, 5. Turkey, 6. Mongolia, 7. Mexico.
Group 3: 1. United States, 2. Norway, 3. Poland, 4. Israel, 5. Ecuador, 6. Portugal, 7. Bolivia.
Group 4: 1. Argentina, 2. Denmark, 3. England, 4. France, 5. Ireland, 6. Chile, 7. South Africa.
Group 5: 1. Czechoslovakia, 2. East Germany, 3. Canada, 4. Scotland, 5. Italy, 6. Luxembourg, 7. Cyprus.
Group 6: 1. Hungary, 2. Cuba, 3. Netherlands, 4. Belgium, 5. Venezuela, 6. Tunisia, 7. Panama, 8. Lebanon.
Group 7: 1. Romania, 2. Bulgaria, 3. Colombia, 4. Finland, 5. Greece, 6. Puerto Rico, 7. Morocco, 8. Nicaragua.
Final
Final A
#
Country
Players
Points
MP
Head-
to-head
NS
1
Soviet Union
Petrosian, Spassky, Tal, Stein, Korchnoi, Polugaevsky
39½
2
United States
Fischer, Byrne, Benko*, Evans, Addison, Rossolimo
34½
3
Hungary
Portisch, Szabó, Bilek, Lengyel, Forintos, Bárczay
33½
20
2
232.25
4
Yugoslavia
Gligorić, Ivkov, Parma, Matanović, Matulović, Čirić
33½
20
2
229.75
5
Argentina
Najdorf, Panno, Bolbochán, Sanguineti, García, Schweber
30
6
Czechoslovakia
Pachman, Hort, Filip, Kaválek, Jansa, Ujtelky*
29½
7
Bulgaria
Minev, Bobotsov, Tringov, Padevsky, Kolarov, Popov
28½
8
Romania
Gheorghiu, Ciocâltea, Ghiţescu, Soós*, Drimer, Stanciu
26½
9
East Germany
Uhlmann, Pietzsch, Fuchs, Malich, Zinn, Liebert
25½
10
Denmark
Larsen, Brinck-Claussen, Andersen, Enevoldsen, Holm, Pedersen
20
11
Iceland
Friðrik Ólafsson, Ingi Randver Jóhannsson, Guðmundur Pálmason,
Freysteinn Þorbergsson, Gunnar Gunnarsson, Guðmundur Sigurjónsson
19
12
Spain
Pomar, Medina García, Menvielle Lacourrelle, Calvo Mínguez,
Franco Raymundo, Pérez Gonsalves
18
13
Norway
Johannessen, Zwaig, Hoen, Kristiansen, De Lange, Wibe
14
14
Cuba
Jiménez Zerquera, Ortega, Cobo Arteaga, Rodríguez Gonzáles,
García Martínez, Santa Cruz
12
Final B

| # | Country | Points | MP |
| --- | --- | --- | --- |
| 15 | Netherlands | 37 | |
| 16 | Poland | 31½ | |
| 17 | Austria | 30 | |
| 18 | Switzerland | 28½ | 15 |
| 19 | Israel | 28½ | 13 |
| 20 | Finland | 28 | |
| 21 | England | 27½ | |
| 22 | Colombia | 26½ | |
| 23 | Canada | 25½ | |
| 24 | Sweden | 24½ | |
| 25 | Belgium | 23 | |
| 26 | France | 20 | |
| 27 | Indonesia | 18 | |
| 28 | Scotland | 15½ | |
Final C

| # | Country | Points | MP |
| --- | --- | --- | --- |
| 29 | Italy | 38 | |
| 30 | Mongolia | 33½ | |
| 31 | Philippines | 31 | |
| 32 | Greece | 29 | |
| 33 | Uruguay | 28 | |
| 34 | Tunisia | 26½ | |
| 35 | Turkey | 25½ | |
| 36 | Venezuela | 25 | 12 |
| 37 | Portugal | 25 | 10 |
| 38 | Chile | 23½ | 9 |
| 39 | Ecuador | 23½ | 8 |
| 40 | Ireland | 21 | |
| 41 | Puerto Rico | 18½ | |
| 42 | Luxembourg | 16 | |
Final D

| # | Country | Points | MP |
| --- | --- | --- | --- |
| 43 | South Africa | 28 | |
| 44 | Mexico | 24½ | |
| 45 | Bolivia | 22 | |
| 46 | Monaco | 20 | |
| 47 | Morocco | 19½ | |
| 48 | Nicaragua | 17 | |
| 49 | Panama | 16½ | |
| 50 | Lebanon | 11 | 3 |
| 51 | Cyprus | 11 | 2 |
| 52 | Hong Kong | 10½ | |
Individual medals
COMMENTS