Levon Aronian
Aronian at the 2011 European Team Chess Championships in Athens

Country
Armenia
Born
6 October 1982
Yerevan, Armenian SSR, Soviet Union
Title
Grandmaster
Peak rating
2830 (March 2014)
Ranking
No. 4 (January 2016)
Peak ranking
No. 2 (January 2012)
Levon Grigori Aronian (Armenian: Լևոն Գրիգորի Արոնյան; born 6 October 1982) is an Armenian chess Grandmaster. On the March 2014 FIDE rating list, he was ranked number two in the world and had an Elo rating of 2830, making him the fourth highest rated player in history.
Aronian won the Chess World Cup 2005. He led the Armenian national team to the Gold medals in the 2006 (Turin), 2008 (Dresden) and 2012 (Istanbul) Chess Olympics and at the World Team Chess Championship in Ningbo 2011. He won the FIDE Grand Prix 2008-2010, qualifying him for the Candidates tournament for the World Chess Championship 2012, where he was knocked out in the first round. He was also World Chess960 Champion in 2006 and 2007, World Rapid Chess Champion in 2009, and World Blitz Chess Champion in 2010. In 2015, he won the 3rd Annual Sinquefield Cup.
Aronian has been the leading Armenian chess player since the early 2000s. His popularity in Armenia has led to him being called a celebrity, and a hero. He was named the best sportsman of Armenia in 2005 and was awarded the title of Honoured Master of Sport of the Republic of Armenia in 2009.
Early life and education
Aronian was born on 6 October 1982 in Yerevan, Armenia (then part of the Soviet Union), to Seda Aronova-Avagyan, an Armenian mining engineer, and Grigory Leontievich Aronov, a Jewish physicist. Talking about his background, Aronian stated in an interview, "I feel much more Armenian than Jewish, although there are sides to me which are more Jewish culturally, involving the arts and music."
He was taught to play chess by his sister, Lilit, at the age of nine. His first coach was the Grandmaster Melikset Khachiyan. An early sign of his ability came when he won the 1994 World Youth Chess Championship (under-12) in Szeged with 8/9, ahead of future luminaries Étienne Bacrot, Ruslan Ponomariov, Francisco Vallejo Pons, and Alexander Grischuk.
Aronian holds a diploma from the Armenian State Institute of Physical Culture.
Career
2001-04
2005
Levon Aronian became part of the international elite in 2005, shooting up to fifth place in the world. In 2005 he was part of a five-way tie for first place at the Gibtele.com Masters in Gibraltar with Zahar Efimenko, Kiril Georgiev, Alexei Shirov, and Emil Sutovsky. He was the sole winner of the Karabakh 2005 International "A" Tournament. In the Russian Team Championship, he scored +5 −0 =3 with an Elo performance rating of around 2850. In December he beat Ruslan Ponomariov of Ukraine in the final round to win the World Cup in Khanty Mansiysk, Russia. After a draw in two regular games, Aronian won both rapid games to win the event and emerge undefeated in seven rounds.
2006
In March 2006 he took sole first place at the annual Linares chess tournament, half a point ahead of Teimour Radjabov and FIDE World Champion Veselin Topalov. In 2006 he also tied for first in the Tal Memorial.
2007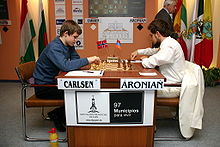 Aronian playing
Magnus Carlsen
at Linares 2007
In January 2007 Aronian shared first place at the category 19 Corus chess tournament in Wijk aan Zee along with Veselin Topalov and Radjabov. In May 2007 he defeated World Champion Vladimir Kramnik 4-2 in a rapid chess match.
His 2005 World Cup victory qualified him for the Candidates Tournament of the World Chess Championship 2007, scheduled for May-June 2007. In this tournament he played GM Magnus Carlsen, and they tied 3-3 in the initial six games, then 2-2 in rapid chess, and finally Aronian won 2-0 at blitz chess. In the finals, he defeated Shirov 3½-2½. This qualified him for the final stage of the championship, which was played in Mexico. There, he scored 6/14, finishing seventh out of eight players.
2008
In January 2008 he won the Corus chess tournament jointly with Magnus Carlsen, scoring 8/13. In March 2008 he won the Melody Amber Blindfold/Rapid tournament held in Nice, France, 2½ points ahead of the nearest competitors. Apart from his first place win in the overall tournament, he also took sole first place in the rapid section of the tournament (winning by a margin of 1½ points) and shared first place in the Blindfold section with three other chess grandmasters: Kramnik, Morozevich, and Topalov. In June 2008, Aronian won the Karen Asrian Memorial Rapid chess tournament in Yerevan. He finished with 8½/14, ahead of Peter Leko.
2009
In March 2009 he won the 18th Melody Amber Blindfold/Rapid tournament held in Nice, France for the second time, scoring a combined 14 points in 22 games. In the same year he took clear first place with four wins, one draw, and one loss in the second Bilbao Masters. On 2 August 2009 Aronian won the World Rapid Chess Championship. In November 2009 he competed in the Mikhail Tal Memorial, at the time the strongest tournament in history (in terms of average Elo, 2763). He finished fourth with 5/9, and in the final round beat World Champion Viswanathan Anand with the black pieces in just 25 moves. In December 2009, he was awarded the title of "Honoured Master of Sport of the Republic of Armenia".
2010
Aronian played in the FIDE Grand Prix 2008-2010, and won the Grand Prix with one tournament to go, qualifying him for the Candidates tournament for the World Chess Championship 2012.
In August 2010, he attempted to defend the World Rapid Chess title, but lost to eventual champion American Gata Kamsky. In September 2010, Aronian played in the preliminary stage of the Bilbao Grand Slam in Shanghai against Vladimir Kramnik, Alexei Shirov, and Wang Hao, but could not qualify for the final tournament after losing to Kramnik in an Armageddon game after they drew the tiebreaker match. His next tournament was the Chess Olympiad, where he was Armenia's first board, leading them to a seventh-place finish, winning the silver medal on board one, and raising his rating to a career-high 2794.
In November 2010, he finished shared first at the category XXI Tal Memorial. Following this tournament, he competed in the World Blitz Championship in Moscow, where he scored 24½/38 to win the title ahead of Teimour Radjabov and defending champion Magnus Carlsen; Aronian clinched the title with a round to spare.
2011
In January 2011, he tied for 3rd-4th with Magnus Carlsen in the 73rd Tata Steel Chess Tournament in Wijk aan Zee.
In March 2011 in Monaco, he won the 20th and final Melody Amber Blindfold/Rapid tournament for the third time, scoring 15½ points in 22 games.
Over his career, Aronian has a 5-1 record against Anand in classical chess. His high ranking and the fact that he was playing in the 2011 world championship Candidates tournament suggested that Aronian was a hot favorite for winning the title from Anand. However, Aronian suffered a setback by losing to Alexander Grischuk 2½-1½ in a quarter final rapid play tiebreaker following a 2-2 split in their regulation classical matches.
In November 2011 Aronian played in the category 22 Tal Memorial in Moscow in a round robin with ten players. He won two games, against Ivanchuk and Svidler, and drew the rest. He tied for first with Magnus Carlsen, each scoring 5½/9.
2012
In January 2012, Aronian competed in the Tata Steel Chess Tournament in Wijk aan Zee; the field included world No. 1 Magnus Carlsen, defending champion Hikaru Nakamura, and former world champion Veselin Topalov, among others. The average rating of the field was 2755, making this thirteen-round event a category 21 tournament. Aronian finished first with 9/13 (+5) and a performance rating of 2891, a point ahead of Carlsen, Radjabov and Fabiano Caruana.
In December 2012, Aronian competed in the London Chess Classic, coming in 6th place with one win (vs Luke McShane), 5 draws and 2 losses.
2013
In the Tata Steel Chess Tournament in January, Aronian finished second with +5−1=7, behind Carlsen.
Aronian played in the 2013 Candidates Tournament, which took place in London, from 15 March to 1 April. He finished fourth, with +5−3=6.
In the 2013 Alekhine Memorial tournament, held from 20 April to 1 May, Aronian finished first, edging out second-place Gelfand on the second tiebreak (number of wins), with a score of +3−1=5.
The sixth Grand Slam Chess Masters final was held on 7-12 October in Bilbao as a double round robin with four players. Aronian's opponents were Maxime Vachier-Lagrave, Shakhriyar Mamedyarov and Michael Adams. Aronian finished first, scoring +2−0=4 or 10 points according to the "football scoring system" that is traditionally used in the Grand Slam.
2014
January 11 to January 26: Aronian played in the 75th Tata Steel Chess Tournament in Wijk aan Zee, The Netherlands. In the 11-round tournament, he scored 8 points (+6−1=4), winning clear first 1½ points ahead of Anish Giri and Sergey Karjakin.
From January 29 to February 4, 2014: Levon Aronian participated in the 2014 Zurich Chess Challenge, one of the major recurring chess supertournaments. He scored 9 points overall, placing him in tied 2nd-3rd along Fabiano Caruana.
March 13 to March 31: He participated in the 2014 World Chess Championship challenger qualification tournament, the 2014 Candidates Tournament, in Khanty-Mansiysk Russia. He scored 6.5 points out of 14 points in the tournaments (-1 overall score) and finished tied second to last along with Peter Svidler
June 2 to June 13: He participated in the 2nd edition of the Norway Chess Supertournament. He scored 4 points out of 9 (-1 overall score) in a 4-way tie with Peter Svidler, Anish Giri, and Vladimir Kramnik.
June 15 to June 22: He participated in the 2014 World Rapid and Blitz Chess Championships
August 1 to August 14: He participated in the 41st Chess Olympiad in Tromsø, Norway as a member of the Armenian team.
August 27 to September 7: He participated in the 2nd edition of the Sinquefield Cup in St. Louis Missouri, one of the strongest tournaments of all time. He scored 4 out of 10 points.
2015
Aronian began the year by playing in the Tata Steel Chess Tournament in Wijk aan Zee, Netherlands. He scored +1-3=9 (5.5 points out of a total of 13 points).
In early-February, he played in the Grenke Chess Classic in Baden-Baden Germany, scoring 50% (3.5 out of 7 points).
In mid-February, he played in the Zurich Chess Challenge 2015. He won the Blitz tournament, scoring 4 points out of 5, scored 4 points out of 10 in the Classical tournament (2 points for a win, 1 point for a draw, 0 points for a loss), and scored 3 points out of 5 in the Rapid tournament. He finished overall 4th in the tournament.
In April to May of 2015, he participated in the Russian Team Championship on the winning team Siberia.
He participated in the Grand Chess Tour, a series of three super tournaments (Norway Chess, Sinquefield Cup, and London Chess Classic) in which players try to accumulate the most Grand Chess Tour points through the three tournaments. In Norway Chess, he scored 3 points out of 9 (9th place in the tournament).
On September 1, 2015, he won the 3rd Sinquefield Cup, held in Saint Louis Missouri, US, with a +3 score and wins over Fabiano Caruana, Hikaru Nakamura, and Wesley So. This result put him back up into the world's Top 10.
He played in the Chess World Cup 2015, a knockout chess tournament played in Baku, Azerbaijan. This tournament was one of the last remaining qualifiers for the Chess Candidates Tournament 2016 (winner and runner-up will qualify), which will determine the challenger to Magnus Carlsen in the World Chess Championship 2016. He was eliminated in Round 2 by Grandmaster Alexander Areschenko. However, he qualified to play in the Candidates Tournament after he was selected by Armenian billionaire Samvel Karapetyan as the organizer's nominee.
In October of 2015, he participated in the World Rapid and Blitz Championship in Berlin, Germany. In the Rapid Championship, he placed 43rd overall, scoring 8.5/15 points. In the Blitz, he placed 11th overall, scoring 13.5/21 points.
After the World Rapid and Blitz Championships, Aronian played in the European Chess Club Cup for Team Siberia Novosibirsk (from October 18th to 24th, 2015). Team Siberia, which also included Vladimir Kramnik, Alexander Grischuk, Li Chao, Wang Yue, Anton Korobov, Dmitry Kokarev, and Dmitry Bocharov, won the event. Aronian himself scored 5 draws out of the 5 games he played in the event.
In December of 2015, Levon Aronian played in the final leg of the Grand Chess Tour, the London Chess Classic. In this particular individual tournament, he scored 5 points out of 9 (+1-0=8), with one victory against Veselin Topalov. Overall, he scored 22 Grand Tour Points out of a maximum 39 to earn himself a spot in the top 3 of the overall Tour standings, securing an invitation in the next Grand Chess Tour.
Team competitions
Aronian played for Armenia in the Chess Olympiads of 1996, 2004, 2006, 2008, 2010, and 2012. He took team bronze medal in 2004 and team gold medal in 2006, 2008 and 2012. In the 2010 Chess Olympiad he won the silver medal for his individual performance on board one. In the 2012 Chess Olympiad Aronian won the gold medal on board one. Aronian was a member of the gold-medal winning Armenian team at the World Team Chess Championship in 2011, where he won the silver medal on board one. Aronian again competed for Armenia in the 2013 World Team Chess Championship, where he won the gold medal on board one.
Elo rating
Aronian broke the 2800 rating barrier in the November 2010 FIDE world ranking with a rating of 2801. He is the sixth player to cross the 2800 rating mark, after Garry Kasparov, Vladimir Kramnik, Viswanathan Anand, Veselin Topalov, and Magnus Carlsen.
Head-to-head record versus selected grandmasters
(Rapid, blitz and blindfold games not included; listed as +wins −losses =draws as of 18 November 2015.)
Players who have been World Champion in boldface
Chess960
Aronian at Mainz 2009
In 2003 Aronian won the Finet Chess960 open at Mainz; this qualified him for a match against Chess960 World Champion Peter Svidler at Mainz the following year, a match which he lost 4½-3½. He won the Finet Chess960 open tournament again in 2005 which earned him a rematch with Svidler in 2006, and won the match this time 5-3 to become Chess960 World Champion.
In 2007 he successfully defended his title of Chess960 World Champion by beating Viswanathan Anand. He lost the title in 2009 to Hikaru Nakamura.
Playing style
Viswanathan Anand called Aronian "a very gifted tactician", and said that "He's always looking for various little tricks to solve technical tasks." In 2011, Boris Gelfand described Aronian as "the most striking player around, with the highest creative level, in terms both of openings and original ideas in the middlegame."
As white, Aronian plays mainly 1.d4. According to Anand, "Though he opens with 1.d4, he treats these positions like an e4-player." Aronian is an expert in the Marshall Attack.
Internet Chess Club
Aronian's handle on the Internet Chess Club (ICC) is "L-Aronian".
Personal life
Aronian has been in a relationship with Australian Woman International Master Arianne Caoili since 2008.
Results Timeline for Chess World Cup
Notable games
a
b
c
d
e
f
g
h
8

8
7
7
6
6
5
5
4
4
3
3
2
2
1
1
a
b
c
d
e
f
g
h
Position after 17.Qa1
Aronian, as Black, defeats GM Ivan Sokolov (2676) in 19 moves, using 10½ minutes on his clock:
Ivan Sokolov vs. Levon Aronian, Turin 2006 Chess Olympiad; Nimzo-Indian Defence (ECO E35)
[Analysis by A. J. Goldsby]
1. d4 Nf6 2. c4 e6 3. Nc3 Bb4 4. Qc2 d5 5. cxd5 exd5 6. Bg5 c5!? 7. dxc5 h6 8. Bh4 g5 9. Bg3 Ne4 10. Bxb8!?
10.e3; 10.Be5
10... Qf6!
10...Rxb8?? 11.Qa4+ +−
11. Bg3 Nxc3 12. a3 Bf5! 13. Qd2 Ba5 14. b4? Ne4 15. Qc1 Rc8!! 16. Ra2?! Rxc5 17. Qa1 (see diagram) Qc6!
The threat of back-rank mate is crushing.
18. Qe5+ Kd8 19. Qxh8+ Kd7 0-1
If 20.e3, 20...Rc1+ 21.Ke2 Bg4+! and 22...Qc4#
COMMENTS