Radosław Wojtaszek
Full name
Radosław Wojtaszek
Country
Poland
Born
13 January 1987
Elbląg, Poland
Title
Grandmaster
Peak rating
2749 (June 2015)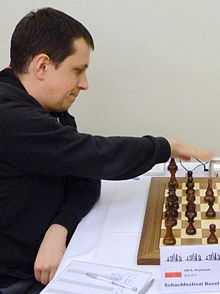 During the 2014 Basel Chess Festival
Radosław Wojtaszek (born 13 January 1987, in Elbląg, Poland) is a Polish chess Grandmaster, currently the highest rated player from that country.
He has been one of the seconds to Viswanathan Anand since 2008. Wojtaszek assisted the former World Chess Champion in his successful title defence match against Vladimir Kramnik, in 2010 against Veselin Topalov, in 2012 against Boris Gelfand, in 2013 and in 2014 against Magnus Carlsen.
Chess career
In 2004, Wojtaszek won the European Under-18 Championship, the World Under-18 Championship and the Cracovia Open with 7½/9. He won the Polish Chess Championship in 2005.
In 2006, Wojtaszek played for the Polish team at the Chess Olympiad in Turin scoring 9 points out of 11 games. In December 2008 Wojtaszek became the European Rapid Chess Champion.
In 2009, Wojtaszek finished second in the Polish Championship, shared second place with Michael Roiz at the first Lublin Grandmaster Tournament and won the Najdorf Memorial in Warsaw.
In January 2010, Wojtaszek tied for 1st-5th with Eduardas Rozentalis, Pavel Ponkratov, Luke McShane and Igor Lysyj at the 39th Rilton Cup in Stockholm and finished again second in the Polish Championship. He won the 5th Polonia Wrocław Open in July 2010. In August of the same year, he won the 4th San Juan International Tournament in Pamplona with 6½/9.
At the Chess Olympiad in Khanty Mansiysk, Wojtaszek played on top board for Poland scoring 6/9. In June 2011, he won the 9th Gyorgy Marx Memorial in Paks, Hungary. In December 2013 he took clear first with 6/7 in the 37th Zurich Christmas Open.
In 2014, he won for the second time the Polish Championship.
In January 2015, Wojtaszek took part in Tata Steel Masters tournament in Wijk aan Zee, finishing ninth out of 14 players. He scored 5.5/13 and was the only player to have defeated World Chess Champion Magnus Carlsen as well as the world's second highest rated player, Fabiano Caruana. In July 2015, he placed second in the Biel Grandmaster Tournament scoring 6/10.
Personal life
Wojtaszek is married to IM Alina Kashlinskaya.
COMMENTS