Alexandra Kosteniuk
Full name

Alexandra Konstantinovna Kosteniuk

(Александра Константиновна Костенюк)
Country
Russia
Born
April 23, 1984
Perm, Russian SFSR, Soviet Union
Title
Grandmaster
Women's World Champion
2008-10
Peak rating
2550 (January 2016)
Alexandra Konstantinovna Kosteniuk (Russian: Алекса́ндра Константи́новна Костеню́к; born 23 April 1984) is a Russian chess Grandmaster and a former Women's World Chess Champion.
She was a member of the gold medal-winning Russian team at the Women's Chess Olympiads of 2010, 2012 and 2014, and at the Women's European Team Chess Championships of 2007, 2009, 2011 and 2015.
Chess career
Kosteniuk learned to play chess at the age of five after being taught by her father.
Kosteniuk at the 35th
Chess Olympiad
, Bled 2002
In 2001, at the age of 17, she reached the final of the World Women's Chess Championship, but was defeated by Zhu Chen. Three years later, she became European women's champion by winning the tournament in Dresden, Germany. Thanks to this achievement, in November 2004, she was awarded the International Grandmaster title, becoming the tenth woman to receive the highest title of the World Chess Federation (FIDE). Before that, she had also obtained the titles of Woman Grandmaster in 1998 and International Master in 2000.
She also won the 2005 Russian Women's Championship, held in Samara, Russia, finishing with a score of +7 −0 =4 . In August 2006, she became the first Chess960 women's world champion after beating Germany's top female player Elisabeth Pähtz by 5½-2½. She defended that title successfully in 2008 by beating Kateryna Lahno 2½-1½. However, her greatest success so far has been to win the Women's World Chess Championship 2008, beating in the final the young Chinese prodigy Hou Yifan, with a score of 2½-1½. Later in the same year, she won the women's individual blitz tournament of the 2008 World Mind Sports Games.
In the Women's World Chess Championship 2010 she was eliminated in the third round by eventual runner-up Ruan Lufei and thus lost her title.
In 2013 she became the first woman to win the men's Swiss Chess Championship. That year she also won the women's Swiss Championship, and thus became the first person to win both the women's and men's national chess titles in Switzerland. In 2015 Kosteniuk won the European-ACP Women's Rapid Championship in Kutaisi.
Other activities
Kosteniuk worked as model and also acted in the film Blagoslovite zhenshchinu by Stanislav Govorukhin.
Kosteniuk is a member of the 'Champions for Peace' club, a group of 54 famous elite athletes committed to serving peace in the world through sport, created by Peace and Sport, a Monaco-based international organization.
Personal life
Born in Perm, Kosteniuk moved to Moscow in 1985. She has a younger sister named Oxana, who is a Woman FIDE Master level chess player.
Kosteniuk has dual Swiss-Russian citizenship. She married Swiss-born Diego Garces, who is of Colombian descent, at eighteen years old. On April 22, 2007 she gave birth to a daughter, Francesca Maria. Francesca was born 2½ months premature, but after an 8-week stay in the hospital has made a full recovery. In 2015 Kosteniuk married Russian Grandmaster Pavel Tregubov.
Notable games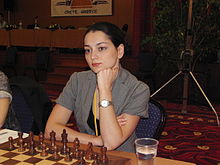 Alexandra Kosteniuk, 2007
The World vs Alexandra Kosteniuk, 2004, Sicilian Defense: Najdorf Variation. English Attack (B90), 0-1
Alexandra Kosteniuk vs Alexander Onischuk, Corus, Group B 2005, Spanish Game: Classical Variation (C65), 1-0
Anna Ushenina vs Alexandra Kosteniuk, WWCh. 2008, Nimzo-Indian Defense: Classical, Noa Variation (E34), 0-1
Bibliography by Kosteniuk
COMMENTS