The Empress - Tarot card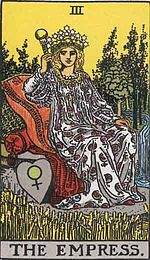 The Empress (III)
The Empress (III) is the third trump or Major Arcana card in traditional Tarot decks. It is used in Tarot card games as well as divination.
Description
The Empress sits on a throne wearing a starry crown, holding a scepter in one hand. The scepter is representative of her power over life, her crown has twelve stars representing her dominance over the year, and her throne is in the midst of a field of grain, representative of her dominion over growing things. The Empress is representative of the productivity of the subconscious, seeded by ideas. She is meant to be the embodiment of the growth of the natural world, fertility, and what one knows or believes from the heart.
History
The Empress seems to have had a rather uneventful five centuries. Waite and the other occultists are responsible for the starry crown, the emblem of Venus, the waterfall, and the vegetation and wildlife. In historical decks, the Empress sits on a throne, almost always holding a shield or orb in one hand and a scepter in the other. The shield typically bears an eagle, the heraldic emblem of the Holy Roman Empire. The Empress Adelaide, beatified by the Catholic Church, seems a likely historical person this card may allude to.
Interpretation
According to Waite's The Pictorial Key to the Tarot, The Empress is the inferior (as opposed to nature's superior) Garden of Eden, the "Earthly Paradise". Waite defines her as not being Regina Coeli (the Blessed Virgin Mary), but rather a Refugium Peccatorum - a fruitful mother of thousands: she is above all things universal fecundity and the outer sense of the Word, the repository of all things nurturing and sustaining, and of feeding others.
The Empress is mother, a creator and nurturer. In many decks she can be shown as pregnant. She can represent the creation of life, romance, art, or business. The Empress can represent the germination of an idea before it is ready to be fully born, and the need to be receptive to change.
COMMENTS