Marshall Chess Club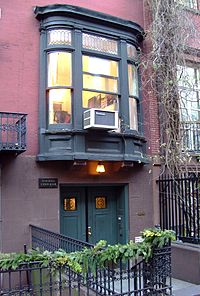 The entrance to the Marshall Chess Club
The Marshall Chess Club, in Greenwich Village, New York City, is one of the oldest chess clubs in the United States. The club was formed in 1915 by a group of players led by Frank Marshall. It is a nonprofit organization and a gold affiliate of the United States Chess Federation.
History
The Marshall Chess Club was a long-time rival of the Manhattan Chess Club, which ran from 1877 to 2002. The club had several temporary meeting places until it moved permanently to 23 West Tenth Street in 1931, where it occupies two floors of a townhouse that the club owns. Marshall was the leader of the club until his death in 1944, when his wife Caroline took over its leadership. Frank Brady was elected president in 2007, and as of 2014, the current president is Stuart Chagrin.
Some notable members of the club have been Fabiano Caruana, Arthur Dake, Larry Evans, Reuben Fine, Bobby Fischer, Stanley Kubrick, Edmar Mednis, Hikaru Nakamura, Fred Reinfeld, Anthony Santasiere, Herbert Seidman, James Sherwin, Albert Simonson, Andy Soltis, and Howard Stern. Marcel Duchamp, a modern artist associated with the Dada and Surrealist movements, played for the club after moving to Greenwich Village in the 1940s; his photograph hangs on a wall of the club.
The club has been the site of several rounds of the U.S. Chess Championship. Bobby Fischer played in the 1965 Capablanca Memorial Tournament being held in Havana, Cuba via Teletype from the club. The Game of the Century also was played there.
COMMENTS