Valentina Kozlovskaya
Valentina Kozlovskaya, 1996

Country
Russia
Born
18 April 1938
Yessentuki, Russian SFSR, Soviet Union
Title
Woman Grandmaster
Peak rating
2315 (January 2015)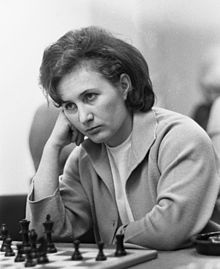 Kozlovskaya in 1968
Valentina Kozlovskaya (Russian: Валентина Козловская; born 18 April 1938 in Yessentuki) is a Russian chess player holding the title of Woman Grandmaster (WGM), and the 1996 Senior Women's World Chess Champion.
Kozlovskaya won the Women's Soviet Chess Championship in 1965. She came second in the 1967 Women's Candidates Tournament. In the same year she placed second to Nona Gaprindashvili in a women's international tournament at Kiev. She won the gold medal at the Chess Olympiad in Havana 1966.
In 2014 she won the European Senior Championship in the women's over-65 (65+) division.
Kozlovskaya is a biochemist by profession and her main hobby apart from chess is classical music.
She is the widow of Grandmaster Igor Bondarevsky.
COMMENTS