Iván Morovic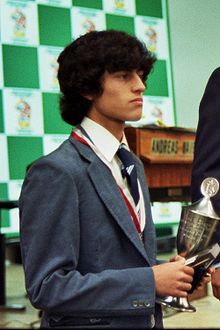 Iván Morović, 1980 at Dortmund, third best of the Junior World Championship
Iván Eduardo Morovic Fernández (born March 24, 1963) is a Chilean chess player and an International Grandmaster. He has reached the best Latin American chess player place several times.
Morovic was born in Viña del Mar, Chile. He began to play chess at age 9. At age 22, he became the first Chilean to hold the title of International Grandmaster. He won the Chilean Chess Championship in 1981. His best tournament participation was in 1993, when he won the Las Palmas, España, with an excellent performance ahead of stars like Anand (draw with him), current world chess champion.
Morovic's best Elo was 2613 at age 35 in 1999.
Iván Morovic Fernández rating card at FIDE
COMMENTS