World Series of Poker
Current season, competition or edition:
2015 World Series of Poker
Founded
Las Vegas, Nevada (1970)
Owner(s)
Binion's Horseshoe (1970-2004);
Caesars Entertainment Corporation (2004-)
Most recent champion(s)
Joe McKeehen (2015 Main Event)
Most titles
Phil Hellmuth (most bracelets, 14);
Johnny Moss and Stu Ungar (most Main Event wins, 3)
Founder
Benny Binion
The World Series of Poker (WSOP) is a series of poker tournaments held annually in Las Vegas and, since 2005, sponsored by Caesars Entertainment (known as Harrah's Entertainment until 2010). It dates its origins to 1970, when Benny Binion invited seven of the best-known poker players to the Horseshoe Casino for a single tournament, with a set start and stop time, and a winner determined by secret ballot.
The winner of each event receives a World Series of Poker bracelet and a monetary prize based on the number of entrants and buy-in amounts. Over the years, the tournament has grown in both the number of events and in the number of participants. Each year, the WSOP culminates with the $10,000 no-limit hold'em "Main Event," which, since 2004, has attracted entrants numbering in the thousands. The victor receives a multi-million dollar cash prize and a bracelet, which has become the most coveted award a poker player can win. The winner of the World Series of Poker Main Event is considered to be the World Champion of Poker.
As of 2014, the WSOP consists of 65 events, with most major poker variants featured. However, in recent years, over half of the events have been variants of Texas hold 'em. Events traditionally take place during one day or over several consecutive days during the series in June and July. However, starting in 2008, the Main Event final table was delayed until November. The 2012 final table commenced in October because of the United States presidential election.
Format
Johnny Moss
, Becky Binion, and
Puggy Pearson
at the 1974 World Series of Poker.
Since 1971, all WSOP events have been tournaments with cash prizes. In 1973 a five-card stud event was added. Since then, new events have been added and removed. Since 1976, a bracelet has been awarded to the winner of every event at the annual WSOP; later on, the winners of pre-1976 events were retroactively given bracelets.
The tournament grew slowly for over a decade, reaching 52 participants in 1982. In the early 1980s, satellite tournaments were introduced, allowing people to win their way into the various events. By 1987, there were over 2,100 entrants in the entire series.
At the 2006 World Series of Poker, there were 45 events, covering the majority of poker variants. Participation in the Main Event peaked that year, with 8,773 players.
Currently, Texas hold 'em, Omaha hold 'em and Seven-card stud and their lowball variants are played. H.O.R.S.E. has been played in the past and returned in 2006. Also, S.H.O.E. has been played in the past, and returned in 2007. Other events played in the past include Chinese poker, Five card stud, and many others. Like most tournaments, the sponsoring casino takes an entry fee (a percentage between 6% and 10%, depending on the buy-in) and distributes the rest, hence the prize money increasing with more players. In the 2005 Main Event, US$52,818,610 in prize money was distributed among 560 players, with US$7.5 million as the first prize. The 2006 Main Event, won by Jamie Gold, is the largest single poker tournament by prize pool or by entrant numbers in history; Gold pocketed US$12 million for his victory. In July 2010, it was announced that the winner of the 2010 Main Event would receive just under US$9 million.
On June 2, 2011, the World Series of Poker and Cirque du Soleil founder Guy Laliberté announced plans for an officially sanctioned special fundraising event, known as The Big One for One Drop, starting on July 1, 2012 with a record US$1 million entry fee. 11% of the money (more precisely, $111,111 from each buy-in) went to Laliberté's charity, the One Drop Foundation, and the WSOP waived its normal 10% rake of the entry fees. At the time of the original announcement, 15 of the maximum 48 seats had been taken. By early December 2011, the field size had increased to 22, the minimum required for an official bracelet tournament. Among those who committed early to the event were Johnny Chan, Daniel Negreanu, Jonathan Duhamel, Tom Dwan, Laliberté, billionaire businessman Phil Ruffin and Erik Seidel. On April 12, 2012, the WSOP announced that 30 players had committed to the tournament, which brought the first prize to $12.3 million, exceeding the record amount won by Jamie Gold. In the end, all 48 seats were filled, resulting in a first prize of $18.3 million. Poker professional Antonio Esfandiari won the event, also receiving a special platinum WSOP bracelet.
Highlights
The number of participants in the WSOP grew every year from 2000 until 2006. Following 2006, new online gambling legislation restricted the number of online qualifiers to the event. 2007 was the first dip in numbers in this century while in 2008 more people participated than the previous year. In 2000 there were 4,780 entrants in the various events, but in 2005, the number rose to over 23,000 players. In the main event alone, the number of participants grew from 839 in 2003 to 8,773 in 2006. Phil Hellmuth has won the most bracelets with 14 followed by Doyle Brunson, Johnny Chan, and Phil Ivey with ten bracelets each. Crandell Addington is the only player to place in the top ten of the World Series of Poker Main Event eight times, albeit in earlier years with small fields compared to modern times. Four players have won the Main Event multiple times: Johnny Moss (1970, 1971, and 1974), Doyle Brunson (1976 and 1977), Stu Ungar (1980, 1981, and 1997) and Johnny Chan (1987 and 1988). Bracelet winners who first achieved fame in other fields include French actor/singer Patrick Bruel (in 1998), Danish soccer player Jan Vang Sørensen (in 2002) and American actress Jennifer Tilly (in 2005). In recent years, there have been non-bracelet events at the WSOP; two of the most notable are the "World Series of Rock Paper Scissors" and "Ante Up for Africa."
History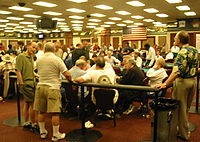 The 2002 World Series of Poker in progress.
The idea of a World Series of Poker began in 1969 with an event called the Texas Gambling Reunion. It was an invitational event sponsored by Tom Moore of San Antonio, Texas, and held at the Holiday Hotel and Casino in Reno. This inaugural event was won by Crandell Addington. The set of tournaments that the World Series of Poker (WSOP) would evolve into was the brainchild of Las Vegas casino owner and poker player Benny Binion. In 1970, the first WSOP at Binion's Horseshoe took place as a series of cash games that included five-card stud, deuce to seven low-ball draw, razz, seven-card stud, and Texas hold 'em. The format for the Main Event as a freeze-out Texas hold 'em game came the next year. The winner in 1970, Johnny Moss, was elected by his peers as the first World Champion of Poker and received a silver cup as a prize.
Acquisition by Harrah's
In 2004, Harrah's Entertainment (now Caesars Entertainment) purchased Binion's Horseshoe, retained the rights to the Horseshoe and World Series of Poker brands, sold the hotel and casino to MTR Gaming Group, and announced that the 2005 Series events would be held at the Harrah's-owned Rio Hotel and Casino, located just off the Las Vegas Strip. The final two days of the main event in 2005 were held downtown at what is now the MTR-operated "Binion's" in celebration of the centennial of the founding of Las Vegas. It also added a made-for-television $2 million "freeroll" invitational Tournament of Champions (TOC) event first won by Annie Duke as a "winner-take-all" event.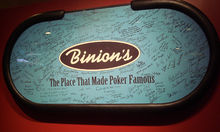 A Binion's poker table signed by WSOP Champions and other professional players after the casino hosted its final WSOP.
Starting in 2005, the WSOP began a tournament "circuit" at Harrah's-owned properties in the United States where, in addition to the $10,000 buy-in tournament at each site, qualifying players became eligible for a revamped Tournament of Champions. The 2005 TOC, made up of the top twenty qualifying players at each circuit event, along with the final table from the 2005 Main Event and the winners of nine or more bracelets (Johnny Chan, Doyle Brunson, and Phil Hellmuth) would participate in the revamped TOC at Caesars Palace. Mike Matusow won the first prize of $1 million (US), and all the players at the final table were guaranteed a minimum of $25,000 for the eighth and ninth-place finishers. During a break in the final table of the 2005 Main Event on July 16, Harrah's announced that eleven properties - including the recently added Bally's and Caesar's properties - would host 2005-06 WSOP Circuit events that started on August 11 in Tunica, Mississippi. One event that was scheduled for Biloxi, Mississippi, was canceled after the Grand Casino Biloxi, which was scheduled to host the event, suffered major damage from Hurricane Katrina. The Rio also hosted the 2006 World Series of Poker, which began on June 25 with satellite events and formally began the day after with the annual Casino Employee event, won in 2006 by Chris Gros. 2006 featured the Tournament of Champions on June 25 and 26, won by Mike Sexton. Various events led up to the main event, which was held from July 28 until August 10. The first prize of $12 million was awarded to Jamie Gold.
Main Event
Since 1972, the Main Event of the WSOP has been the $10,000 buy-in no-limit Texas Hold 'Em (NLHE) tournament (in 1971 the buy-in was $5,000 and the inaugural 1970 event was an invitational with winner determined by a vote). Winners of the event not only get the largest prize of the tournament and a gold bracelet, but additionally their picture is placed in the Gallery of Champions at Binion's. The winner of the Main Event has traditionally been given the unofficial title of World Champion. However, some believe that no-limit hold 'em is not the optimal structure for determining a champion poker player. In 2002, Daniel Negreanu argued that the Main Event should switch to pot-limit hold 'em, believing that pot-limit required a more complete set of poker skills than no-limit, although he admitted that such a change would likely never be made. However, many of the game's top professionals, including Negreanu, have since stated that the recently added $50,000 H.O.R.S.E./Poker Player's Championship event is the one which ultimately decides the world's best player. The $50,000 buy-in, being five times larger than the buy-in for the Main Event, has thus far tended to deter amateurs from playing in this event, and the variety of games played require a broader knowledge of poker. The first $50,000 event, conducted as a H.O.R.S.E. tournament, was won by Chip Reese in 2006. In 2010, the $50,000 event changed from H.O.R.S.E. to an "8-game" format, adding no-limit hold 'em, pot-limit Omaha, and 2-7 triple draw to the mix, and was rechristened The Poker Player's Championship, with Michael Mizrachi winning the first edition of the revamped event. Since Reese's death in December 2007, the winner of this event receives the David 'Chip' Reese Memorial Trophy in addition to the bracelet and the prize money.
The
Gallery of Champions
in 1979.
There have been many memorable moments during the main events, including Jack Straus's 1982 comeback win after discovering he had one $500 chip left when he thought he was out of the tournament. The end of the 1988 main event was featured in the movie Rounders. Chris Moneymaker and Greg Raymer, the winners in 2003 and 2004, both qualified for the main event through satellite tournaments at the PokerStars online card room. Jerry Yang, the winner in 2007, had only been playing poker for two years prior to his victory. He won his seat at a $225 satellite tournament at Pechanga Resort & Casino, in California. With passage of the Unlawful Internet Gambling Enforcement Act (UIGEA) of 2006 online poker sites have been barred from purchasing entrance directly for their users.
Main Event results
Year
Winner
Winning
hand
First place prize
Entrants
Runner-up
Losing
hand
1970
Johnny Moss
N/A
N/A
7
N/A
N/A
1971
Johnny Moss
N/A
30,000
6
Walter "Puggy" Pearson
N/A
1972
Thomas "Amarillo Slim" Preston, Jr.

K♥

 

J♦

80,000
8
Walter "Puggy" Pearson
6  6 
1973
Walter "Puggy" Pearson
A♠ 7♠
130,000
13
Johnny Moss

K♥

 J♠
1974
Johnny Moss

3♥

 3♠
160,000
16
Crandell Addington
A♣ 2♣
1975
Brian "Sailor" Roberts
J♠ 

J♥

210,000
21
Bob Hooks
J♣ 9♣
1976
Doyle Brunson
10♠ 2♠
220,000
22
Jesse Alto
A♠ 

J♦

1977
Doyle Brunson
10♠ 

2♥

340,000
34
Gary Berland

8♥

 5♣
1978
Bobby Baldwin

Q♦

 Q♣
210,000
42
Crandell Addington

9♦

 9♣
1979
Hal Fowler
7♠ 

6♦

270,000
54
Bobby Hoff
A♣ 

A♥

1980
Stu Ungar
5♠ 4♠
385,000
73
Doyle Brunson

A♥

 7♠
1981
Stu Ungar

A♥

 

Q♥

375,000
75
Perry Green
10♣ 

9♦

1982
Jack Straus

A♥

 10♠
520,000
104
Dewey Tomko

A♦

 

4♦

1983
Tom McEvoy

Q♦

 Q♠
540,000
108
Rod Peate

K♦

 

J♦

1984
Jack Keller

10♥

 10♠
660,000
132
Byron Wolford

6♥

 

4♥

1985
Bill Smith
3♠ 

3♥

700,000
140
T. J. Cloutier

A♦

 3♣
1986
Berry Johnston
A♠ 

10♥

570,000
141
Mike Harthcock

A♦

 

8♦

1987
Johnny Chan
A♠ 9♣
625,000
152
Frank Henderson
4♦ 4♣
1988
Johnny Chan
J♣ 9♣
700,000
167
Erik Seidel
Q♣ 

7♥

1989
Phil Hellmuth, Jr.
9♠ 9♣
755,000
178
Johnny Chan
A♠ 7♠
1990
Mansour Matloubi

6♥

 6♠
895,000
194
Hans Lund

4♦

 4♣
1991
Brad Daugherty
K♠ J♠
1,000,000
215
Don Holt

7♥

 

3♥

1992
Hamid Dastmalchi

8♥

 4♣
1,000,000
201
Tom Jacobs

J♦

 7♠
1993
Jim Bechtel
J♠ 6♠
1,000,000
220
Glenn Cozen

7♦

 

4♥

1994
Russ Hamilton
K♠ 

8♥

1,000,000
268
Hugh Vincent
8♣ 

5♥

1995
Dan Harrington

9♦

 

8♦

1,000,000
273
Howard Goldfarb

A♥

 7♣
1996
Huck Seed

9♦

 

8♦

1,000,000
295
Bruce Van Horn
K♣ 8♣
1997
Stu Ungar

A♥

 4♣
1,000,000
312
John Strzemp
A♠ 8♣
1998
Scotty Nguyen

J♦

 9♣
1,000,000
350
Kevin McBride

Q♥

 

10♥

1999
Noel Furlong
5♣ 

5♦

1,000,000
393
Alan Goehring

6♥

 6♣
2000
Chris Ferguson
A♠ 9♣
1,500,000
512
T. J. Cloutier

A♦

 Q♣
2001
Juan Carlos Mortensen
K♣ Q♣
1,500,000
613
Dewey Tomko
A♠ 

A♥

2002
Robert Varkonyi

Q♦

 10♠
2,000,000
631
Julian Gardner
J♣ 8♣
2003
Chris Moneymaker

5♦

 4♠
2,500,000
839
Sam Farha

J♥

 

10♦

2004
Greg Raymer
8♠ 

8♦

5,000,000
2,576
David Williams

A♥

 4♠
2005
Joe Hachem
7♣ 3♠
7,500,000
5,619
Steve Dannenmann

A♦

 3♣
2006
Jamie Gold
Q♠ 9♣
12,000,000
8,773
Paul Wasicka

10♥

 10♠
2007
Jerry Yang

8♦

 8♣
8,250,000
6,358
Tuan Lam

A♦

 

Q♦

2008
Peter Eastgate

A♦

 5♠
9,152,416
6,844
Ivan Demidov

4♥

 

2♥

2009
Joe Cada

9♦

 9♣
8,547,042
6,494
Darvin Moon

Q♦

 

J♦

2010
Jonathan Duhamel
A♠ 

J♥

8,944,310
7,319
John Racener

K♦

 

8♦

2011
Pius Heinz
A♠ K♣
8,715,638
6,865
Martin Staszko
10♣ 7♣
2012
Greg Merson

K♦

 

5♦

8,531,853
6,598
Jesse Sylvia
Q♠ J♠
2013
Ryan Riess

A♥

 

K♥

8,361,570
6,352
Jay Farber
Q♠ 5♠
2014
Martin Jacobson

10♥

 

10♦

10,000,000
6,683
Felix Stephensen

A♥

 

9♥

2015
Joe McKeehen

A♥

 

10♦

7,683,346
6,420
Joshua Beckley
4♣ 

4♦
Players
Records
Since its inception, Stu Ungar and Johnny Moss are the only players to have won the Main Event three times. However, Moss' first victory came in a different format, as he was elected winner by vote of his fellow players at the conclusion of what was then a timed event. Moss (if the first time win by vote is counted), Ungar, Doyle Brunson, and Johnny Chan are the only people who have won the Main Event in consecutive years. Johnny Chan's second victory in 1988 was featured in the 1998 film Rounders.
Phil Hellmuth holds multiple WSOP records including most bracelets, most WSOP cashes, and most WSOP final tables. He is also the only player to have won the Main Events of both the WSOP and WSOP Europe.
In recent years, the prize pool for the WSOP Main Event has become so large that the winner instantly becomes one of the top money winners of WSOP and even in tournament poker history. Before July 2012, the top seven players on the all-time WSOP Earnings list were Main Event champions from 2005 to 2011, among whom Jamie Gold topped those seven, he won the 2006 Main Event, which had then the biggest first prize for a single tournament, and still is the largest poker tournament by prize pool in history. However, the all-time leader is currently Antonio Esfandiari, who has not won a Main Event. He collected a record-breaking first prize of $18.3 million in July 2012 when he won The Big One for One Drop, a charitable WSOP event with a $1 million buy-in. The players in second and third place on the all-time earnings list, Daniel Colman and Daniel Negreanu, have also yet to win a Main Event in Las Vegas, although Negreanu won the inaugural WSOP Asia Pacific Main Event in 2013. They finished in the top two places in the 2014 Big One for Big Drop, respectively winning $15.3 million and $8.3 million.
The list below includes the WSOP Europe and WSOP Asia-Pacific, but excludes WSOP Circuit events and other non-bracelet events. The results are updated through the 2014 WSOP APAC.
Player of the Year
Since 2004, a Player of the Year (POY) award has been given to the player with the most points accumulated throughout the WSOP. As of 2013, nine different players have won the ten awards, with Daniel Negreanu the only repeat (2-time) winner.
Only "open" events in which all players can participate count in the standings; this eliminates the Seniors, Ladies, and Casino Employee events. Beginning with the 2006 World Series of Poker, the Main Event and the $50,000 H.O.R.S.E. competition had no effect on the outcome of the winner of the Player of the Year award. In the 2008 World Series of Poker, the $50,000 H.O.R.S.E. event counted toward the Player of the Year award, but the Main Event did not. Since 2009, all open events, including the Main Event, count towards Player of the Year. The Player of the Year standings were based upon performance solely at the WSOP in Las Vegas up until 2010, but beginning in 2011 have also taken the World Series of Poker Europe into account, and starting in 2013 also include events in the World Series of Poker Asia Pacific. The 2011 WSOP Player of the Year organized by Bluff Magazine used a different scoring system which took into account field sizes and buy-in amounts when calculating points earned. This scoring system has been used ever since.
| Year | Winner | Bracelets | Final Tables | Cashes | WSOP Earnings (US$) |
| --- | --- | --- | --- | --- | --- |
| 2004 | Daniel Negreanu | 1 | 5 | 6 | 346,280 |
| 2005 | Allen Cunningham | 1 | 4 | 5 | 1,007,115 |
| 2006 | Jeff Madsen | 2 | 4 | 4 | 1,467,852 |
| 2007 | Tom Schneider | 2 | 3 | 3 | 416,829 |
| 2008 | Erick Lindgren | 1 | 3 | 5 | 1,348,528 |
| 2009 | Jeff Lisandro | 3 | 4 | 6 | 807,521 |
| 2010 | Frank Kassela | 2 | 3 | 6 | 1,255,314 |
| 2011 | Ben Lamb | 1 | 4 | 5 | 5,352,970 |
| 2012 | Greg Merson | 2 | 2 | 5 | 9,785,354 |
| 2013 | Daniel Negreanu | 2 | 4 | 10 | 1,954,054 |
| 2014 | George Danzer | 3 | 5 | 10 | 878,933 |
| 2015 | Mike Gorodinsky | 1 | 3 | 8 | 1,766,487 |
Poker Hall of Fame
Read main article: Poker Hall of Fame
Since its inception in 1979, the WSOP Poker Hall of Fame has honored 42 individuals. Selection criteria for players include having competed against acknowledged top competition, played for high stakes and played consistently well to gain the respect of their peers. For non-players, selection is based on positive and lasting contributions to the overall growth and success of poker.
Expansion
2007 - World Series of Poker Europe
The World Series of Poker Europe (WSOPE) is the first expansion of the World Series of Poker. Since 1970, the event has occurred every year in Las Vegas. In September 2007, the first WSOP championship events outside of Las Vegas, complete with bracelets, were held. The inaugural WSOPE consisted of three events held in London from September 6-17, 2007. The main event, a GBP 10,000 buy-in no-limit hold 'em tournament, was won by Norwegian online prodigy Annette Obrestad on the day before her 19th birthday. This made her the youngest person ever to win a WSOP bracelet, a record that cannot be broken in the Las Vegas WSOP under current laws because the minimum legal age for casino gaming in Nevada is 21. Obrestad could play in the WSOPE because the minimum age for casino gaming in the United Kingdom is 18. While no definitive plans have been announced, WSOP Commissioner Jeffrey Pollack has indicated that in the next one to three years that other venues may start holding WSOP events. Two locations that have been mentioned as possible expansion sites are Egypt and South Africa, and the World Series of Poker Africa was ultimately launched in South Africa in 2010. However, it is currently treated as a WSOP Circuit event, with no bracelets awarded. The next expansion of the WSOP that included bracelet events was ultimately to Australia.
The WSOPE moved from London to Cannes, France in 2011. At that time, the buy-ins and payouts changed from being fixed in pounds to euros. The event moved again in 2013, this time to the Paris suburb of Enghien-les-Bains.
In November 2013, it was announced that the WSOPE would in the future alternate with the World Series of Poker Asia Pacific (WSOP APAC), which launched in 2013. The WSOPE will now be held only in odd-numbered years, with WSOP APAC conducted in even-numbered years.
WSOPE Main Event results
Year
Winner
Winning Hand
Prize
Entrants
Runner-Up
Losing Hand
2007
Annette Obrestad

7♥

 7♠
£1,000,000
362
John Tabatabai
5♠ 

6♦

2008
John Juanda
K♠ 6♣
£868,800
362
Stanislav Alekhin
A♣ 9♠
2009
Barry Shulman
10♠ 10♣
£801,603
334
Daniel Negreanu
4♠ 

4♦

2010
James Bord

10♦

 

10♥

£830,401
346
Fabrizio Baldassari
5♠ 

5♥

2011
Elio Fox

A♦

 10♠
€1,400,000
(£1,206,577)
593
Chris Moorman

A♥

 7♠
2012
Phil Hellmuth

A♥

 

10♦

€1,022,376
420
Sergii Baranov
A♠ 4♣
2013
Adrián Mateos
A♠ K♣
€1,000,000
375
Fabrice Soulier

9♦

 

8♦

2015
Kevin MacPhee

A♦

 

4♦

€883,000
313
David Lopez

K♥

 K♣
2010 World Series of Poker - Africa
In 2010, the WSOP expanded overseas once again, only this time to Gauteng, South Africa. While the WSOPE awarded bracelets, the World Series of Poker Africa Although the 2010 event was part of the WSOP Circuit, winners did not earn a gold ring or standing for the WSOP Circuit National Championship, both of which were common for other circuit events. This policy changed in 2012. The WSOPA did not occur in 2011, but resumed in 2012.
2013 World Series of Poker Asia-Pacific
On April 30, 2012, the WSOP and Australian casino Crown Melbourne jointly announced the creation of the World Series of Poker Asia-Pacific (WSOP APAC). The first edition of the event was held at Crown's Melbourne casino from April 4-15, 2013 and featured five bracelet events.
WSOP APAC Main Event results
Year
Winner
Winning Hand
Prize
Entrants
Runner-Up
Losing Hand
2013
Daniel Negreanu
2♠ 

2♥

A$1,038,825
405
Daniel Marton
A♠ 7♠
2014
Scott Davies

6♦

 6♠
A$850,136
329
Jack Salter
Q♣ 10♣
WSOP television coverage
1970s-1980s
The earliest filming of the World Series was a special produced by Binion's Horseshoe in 1973 and narrated by Jimmy "The Greek" Snyder. CBS began covering the World Series in the late 1970s. In the early 1980s, the event was again broadcast as specials. In the late 1980s, the World Series returned to television as ESPN took over broadcasting. Initially, coverage consisted of just a single one-hour taped-delay broadcast of the main event.
1990s
ESPN Classic currently airs many of the old broadcasts from the mid-1990s and beyond. Since no "pocket cam" existed, very few hole cards were actually shown to television viewers. Generally, ESPN used poker-playing actors such as Dick Van Patten, Vince Van Patten, and Gabe Kaplan, with either the tournament director (usually Jim Albrecht) or a poker professional like Phil Hellmuth joining the team. Unlike today's coverage, ESPN featured no pre-taped interviews or profiles on the players. In addition, the commentators were generally on the casino floor itself.
In the 1994 coverage of the final hand of the main event shows Hugh Vincent holding 8♣ 5♥ . The flop was 8♣ 2♠ 6♦, indicating that there were two 8♣ in the deck. The tournament director announces that Hugh Vincent needed two running spades to win. The likely hand for Hugh Vincent was 8♠ 5♠, but there is no known video of the actual hand turned over by Hugh Vincent.
2000s
From 1999 to 2001, the World Series of Poker was broadcast by The Discovery Channel. These hour-long programs presented more of an overview or recap of the WSOP as opposed to broadcasting an actual live event with play-by-play analysis and color commentary. The Discovery Channel's broadcast also featured final table players interviews interlaced throughout the show. ESPN would resume coverage the following year.
ESPN's coverage in 2002 was typical of their coverage in the 1990s (recorded in video, little or no post-production commentary or player profiles, no card cams). However, the final table broadcast was expanded over two one-hour episodes. The 2002 WSOP was the first with the "sneak peek" (later called the pocket cam, or hole cam).
In 2003, Fred Christenson secured the long-term rights acquisition for ESPN, and the channel expanded their coverage to new heights with their coverage of the WSOP. They included coverage of the entire tournament, with a "Featured Table". At this table, the viewers could see the player's hole cards and subsequent strategy. The action was also broadcast as if live, though on tape-delay. 2003 was the first year that the broadcast covered action preceding the final table. Since then, ESPN has greatly expanded its coverage to include many of the preliminary events of the WSOP, especially Texas Hold 'Em. Also, their coverage of the main event now typically includes at least one hour program on each day. For the first two years of its existence, ESPN was broadcasting one hour programs of the "circuit" events that the WSOP has at various Harrah's-owned casinos, but ESPN did not renew these events. ESPN's coverage now includes many of the trappings of sports coverage, such as lighter segments (called "The Nuts") and interviews. ESPN's coverage has been largely driven by Matt Maranz, Executive Producer for the WSOP telecasts. Maranz leads 441 Productions, which produces the telecast under contract to ESPN's unit ESPN Original Entertainment (EOE). Maranz has significant sports production experience, having previously worked on ESPN's football pre-game show, and has also produced taped segments for NBC's Olympic coverage.
Coverage would increase in 2004 and 2005 to include preliminary events from the WSOP, in addition to the "Main Event". ESPN has expanded poker to all-new levels, especially with their coverage of the 2006 WSOP, including providing the entire final table of the 2006 Main Event via pay-per-view airing. In 2008, ESPN experimented with the idea of a delayed final table. This idea presented greater sponsorship opportunities and notoriety, culminating in a recap of the Main Event and the conclusion of the 2008 Main Event final table. In 2009, ESPN announced they would again move the final table to November 2009. The WSOP also decided there would be no rebuy events in 2009. The decision was reached because of complaints that rebuy events provided an unfair advantage to professionals with no limitation on how much money they can spend for an event. There were 57 bracelet events that year. The 2010 WSOP had the same number of bracelet events as in 2009, again with no rebuy events.
With 58 bracelet events and no rebuy events, the 2011 WSOP featured unprecedented "nearly live" coverage, with broadcasts being delayed by much smaller amounts of time while still satisfying Nevada Gaming Commission regulators. Caesars Entertainment, via WSOP.com, streamed final-table coverage of all bracelet events on a 5-minute delay, although without pocket cams. The ESPN family of networks aired 36 hours of Main Event coverage leading up to the November Nine on a 30-minute delay, showing the hole cards of all players who voluntarily entered the pot once the hand ended. The Main Event final table was broadcast on a 15-minute delay with the same policy regarding hole cards. The first day of the final table was aired on ESPN2 and the final day on ESPN, with both days also streamed on ESPN3 and WSOP.com.
WSOP broadcasters
Marketing
The WSOP has corporate sponsors and licensed products which pay fees to market themselves as an official sponsors and/or licensees and exclusively use the WSOP insignia and cross-promote with their events. Besides the Harrah's properties and ESPN, major sponsors have included Jack Links Beef Jerky, Miller Brewing's "Milwaukee's Best" brand of beers, Pepsi's SoBe Adrenaline Rush energy drink (sponsors of the 2005 TOC), Helene Curtis' Degree brand of anti-perspirant/deodorant, United States Playing Card's Bicycle Pro Cards, Bluff Magazine, GlaxoSmithKline/Bayer's Levitra erectile dysfunction medicine, and The Hershey Company. Licensees include Glu Mobile, Activision (video games for different platforms such as Nintendo's GameCube, Microsoft's Xbox, Sony's PlayStation 2, and PC, featuring computer-generated versions of stars like Ferguson), and products made by different companies ranging from chip sets, playing cards, hand-held games, and clothing like caps and shirts. The official playing cards and chips are manufactured by Excalibur Electronics, Inc. which is based out of Miami, Florida and has been the main chip licensee since 2005. The fees and licenses bring in more than a million dollars to Harrah's.
DVD releases
In 2003 and 2004 DVD sets were released by ESPN of the Main Event.
Video games
In 2005, a video game based on the tournament, titled World Series of Poker, was released for several consoles and the computer. A sequel called World Series of Poker: Tournament of Champions came out in 2006. In 2007, World Series of Poker 2008: Battle for the Bracelets was released. WSOP video poker machines now appear at some Harrah's casinos; the machines are standard video poker machines, but have a bonus feature which allows a player to play a modified game of Texas Hold 'em against the machine.
WSOP Poker Academy
Beginning in 2007, Harrah's announced the creation of the World Series of Poker Academy, a poker school aimed at providing poker players with the skills needed to win a WSOP Bracelet. The instructors for the Academy include Annie Duke, Phil Hellmuth, Jr., Greg Raymer, Scott Fischman, Mark Kroon, Mark Seif, Alex Outhred, and former FBI interrogator Joe Navarro. Initial academies were launched in Tunica, Mississippi, Indiana, and Las Vegas.
WSOP online
In September 2009 Harrah's signed an agreement with Dragonfish, the B2B arm of 888 Holdings, to provide its online gaming services. The offering went live in the UK later that year, allowing UK users to play for real money. Real money online poker is available in the United States, but only in Delaware, Nevada and New Jersey.
WSOP Arizona Lottery
In December 2010, the Arizona Lottery issued Game Number 739: World Series of Poker $5 Scratchers(sm) with a $50,000.00 top prize. Played on two tables, the game included a second chance drawing for non-winning tickets to win one of two Grand Prize Trip Packages that included a seat at the 2011 World Series of Poker Main Event or one of eight WSOP Poker Party Prize Packs.
Read more:
COMMENTS