Thomas Luther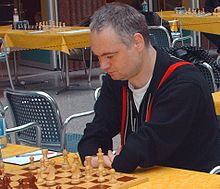 Thomas Luther playing in the
Bundesliga
.
Thomas Luther (born 4 November 1969 in Erfurt) is a German chess player and International Grandmaster of Chess. In 2000 he was a member of the German team that won the silver medal in the 34th Chess Olympiad in Istanbul.
He won the German championships 1993, 2002, and 2006. As a result of his 1993 victory, FIDE awarded him the GM title in 1994. In 2009, he won 6th LGA Premium Chess Cup in Nürnberg.
He is the head of the FIDE Commission on disabled and leads the Disabled team to the World Chess Olympiad every two years.
Luther's current Elo rating is 2545 (September 2010).
COMMENTS