Phiona Mutesi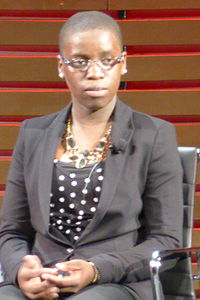 Phiona Mutesi at the Women in the World Conference.
Phiona Mutesi is a Ugandan chess player.
Biography
She is not certain when she was born, although FIDE has estimated it to be 1993. She grew up in the Ugandan slum of Katwe, where as of 2011 fifty percent of teen girls were mothers; when Phiona was about three her father died of AIDS and shortly afterwards her older sister Juliet died of an unknown cause. When Phiona was about nine, and had already dropped out of school as her family could not afford to send her, she joined a chess program run by the Sports Outreach Institute, which taught her how to play chess. In 2010 she played six rounds on board 2 and one round on board one for Uganda at the 39th Chess Olympiad, scoring 1.5 points from the seven, and as of 2011 she was a three-time Women's Junior Champion of Uganda. In 2012, Phiona and Ivy Amoko earned Woman Candidate Master (WCM) titles as a result of their performances at the 40th Chess Olympiad, making them the first titled female players in Ugandan chess history. That same year Phiona became the first female player to win the open category of the National Junior Chess Championship in Uganda. In September 2013, Mutesi played against Lutaaya Shafiq Holmes of Makerere University who she beat, and thus took the trophy in the Uganda National Junior Chess Championship of 2013, which was held at City Oil Kira Road in Kisementi, Kololo. In 2014, Phiona played in the 41st Chess Olympiad, on the Ugandan women's team. As of 2015, she is currently the 171,364 ranked player in the world according to the World Chess Federation.
Depiction in media
In 2012, a book was published about Phiona titled, "The Queen of Katwe: A Story of Life, Chess, and One Extraordinary Girl's Dream of Becoming a Grandmaster", by Tim Crothers. Disney has optioned the rights to the book, and began work on the film in 2012; the film, The Queen of Katwe, will star Lupita Nyong'o and David Oyelowo.
There is also a documentary about Phiona on YouTube as of 2012.
COMMENTS