Kārlis Bētiņš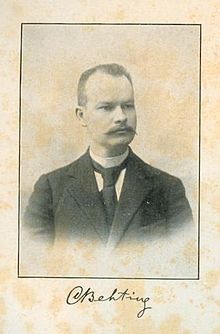 Kārlis Bētiņš.
Kārlis Bētiņš (Karlis Betins, Karl Behting) (27 October 1867, Bērzmuiža - 28 March 1943, Riga) was a Latvian chess master and composer of studies.
He tied for 3rd-5th at Riga 1899 (the 1st Baltic Congress, Robert Behting won), took 3rd at Riga 1900 (won by T. Muller), won at Riga 1900/01, shared 1st with Karl Wilhelm Rosenkrantz, W. Sohn and Wilhelm von Stamm at Dorpat (Tartu) 1901 (the 2nd Baltic Congress), and tied for 3rd-4th at Reval (Tallinn) 1904 (Bernhard Gregory won).
In 1902-1910, he was co-editor with Paul Kerkovius of the Baltische Schachblätter.
After World War I, he took 3rd, behind Hermanis Matisons and Fricis Apšenieks, at Riga 1924 (1st LAT-ch). Bētinš played for Latvia in 1st unofficial Chess Olympiad at Paris 1924 (+7 -4 =2), where he took 4th place (team) and tied for 4-7th in Consolation Cup (individual; Karel Hromadka won).
The Latvian Gambit (1.e4 e5 2.Nf3 f5) was named as a tribute to Kārlis Bētiņš, who analyzed it in the early part of the 20th century.
COMMENTS